Converting services are an ideal choice for a wide variety of markets, allowing manufacturers to meet application needs and enhance the production process with a customized solution. The Ellsworth Adhesives team is equipped to convert materials like thermal interface materials, tapes, films, EMI shielding products, sponges, foams, rubbers, packaging, and more from industry-leading suppliers.
No matter the size, shape, or style, we can work with you to create a material that fits your unique requirements. Our experienced engineers will partner with you throughout the converting process from design, to prototyping, to the completed product. As an ISO 9001:2015 & AS9120B certified company that offers ISO 10993 biocompatible products, your converted materials will adhere to strict guidelines to ensure consistent, high-performance results.
Converting Capabilities

Rotary Die Cutting

Prototyping

Spooling

Rewind/Slitting

Flatbed Die Cutting

Laser Cutting

Plotter Cutting

Island Placement

Laminating

Digital Label Printing

Assembly

Packaging
Materials
Acoustic Mesh & Membranes
Conductive Tapes
Double Coated Tapes
EMI Shielding Products
Film Tapes (Polyester, Polymide)
Metal Foil Tapes
PTFE Membrane Vents
Rubber (Silicone, Neoprene, EPDM, Nitrile, Viton, Sponge Blend Rubber)
Sponges & Foams
Surface Protection Films
Thermal Interface Materials
Transfer Tapes
UHMW Tapes
VHB™ Foam Tapes
Introducing 3M ISOLOSS™ LS Polyurethane Foams
ISOLOSS™ LS Polyurethane foams are designed for demanding applications such as gasketing, cushioning, sealing, vibration and acoustic control. These microcellular open-cell foams offer low compression, shock absorption, flame and chemical resistance. They also provide strength and longevity in extreme environments.
FEATURES
Soft and durable
Low compression set
Wide temperature range
Flame and chemical resistance
Excellent shock control and cushioning
Consistent compression force deflection
APPLICATIONS
Gasketing
Enclosure and ligh-duty sealing
Gap filling
Vibration damping
Impact and shock absorption
Padding
Buzz, squeak, and rattle (BSR)
Noise, vibration, and harshness (NVH)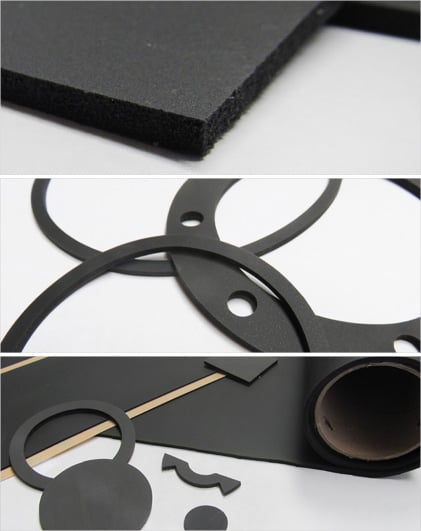 Need help converting your materials to meet your assembly needs? Get in touch with an Ellsworth Adhesives Representative today!