Dow Optical Encapsulants
The global LED lighting market has expanded rapidly over the last decade, with businesses and consumers making the switch to a more energy-efficient illumination option. LEDs are reliable and robust, offering lower power consumption, high brightness, and a wide range of shape and size options. Some LED lighting applications are exposed to harsh environmental conditions like moisture, heat, and damaging contaminants. These types of components have special requirements for high ingress protection, which call for specific adhesive properties.
FLEXIBLE & RIGID LED STRIPS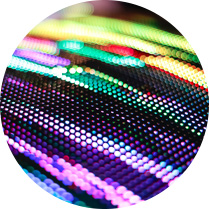 OUTDOOR LED DISPLAYS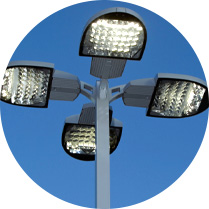 SPOT, FLOOD & GENERAL AREA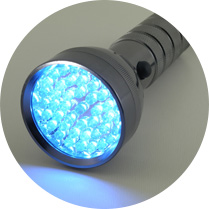 SMALL PORTABLE-TYPE
EXISTING ENCAPSULATION MATERIALS
While adhesive solutions like conformal coatings and molded lenses are available, optical encapsulants provide the highest degree of protection and easy of use in harsh environments. This technology is particularly suited for explosion proof or high IP rated luminaires. Manufacturers can choose from epoxy, urethane, and silicone formulations based on their unique application needs.
Material

Advantages

Limitations

Epoxy

Hard - best mechanical protection
Good adhesion
Lowest price

Weak photo resistance
Shrinkage during cure
Health concern

Urethane

Tunable hardness - soft to hard
Conditional adhesion to substrate
Medium price

Shrinkage during cure > stress
Sensitive to moisture during cure > bubbles
Health concern: isocyanates

Silicone

Highest thermal stability & photo resistance
Good moisture & humidity resistance
No exotherm & no shrinkage

No adhesion, need of primer
Higher price
Cure inhibition
Dow Dowsil™ EI-2888 Primerless Silicone Encapsulant
Discover the benefits of DOWSIL™ EI-2888 Primerless Silicone Encapsulant, an optically clear silicone that provides protection for LEDs from moisture and surface contaminants. This product's optimum rheological properties allow for light fixtures in a variety of shapes or forms whilst delivering superior optical performance.
Suitable for encapsulating rigid and flexible circuit boards for indoor and outdoor LED Lighting, explosion proof and high ingress protection rated luminaire as well as outdoor displays applications and for space grade applications.
Features
Primerless adhesion with inhibition resistance at low viscosity
Room temperature curing with optional heat acceleration
A cost effective alternative (does not contain platinum like other encapsulants)
Applications
Outdoor displays
Explosion proof lighting
Flexible and rigid LED strips
Featured Videos